Could YOU be RSD's new Treasurer?
If you have a background in finance and/or accountancy and would like to join our Board of Trustees please click here!
Latest News and Events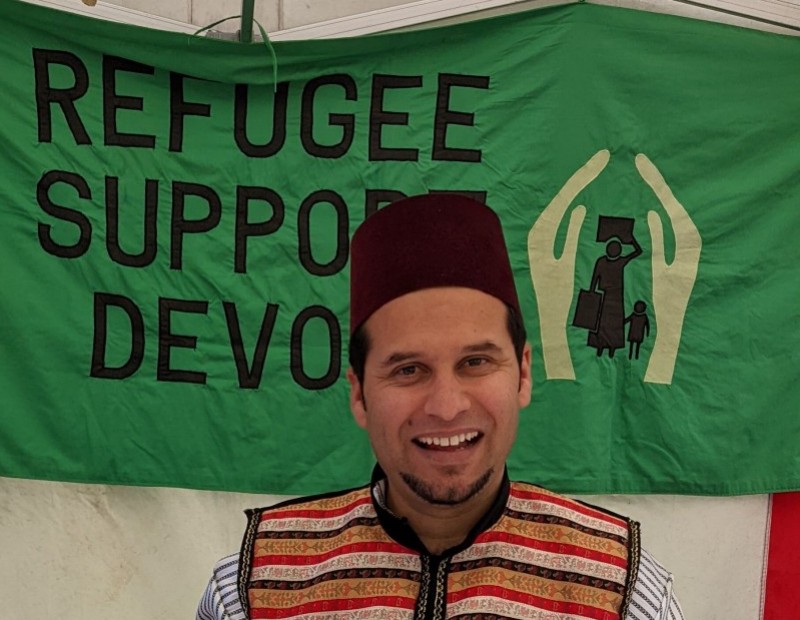 03 Jul 2022
Former RSD client, Khaled, hopes to raise £30,000 for a Syrian food truck
When Khaled Deakin and family flew into Bristol Airport in 2017, they were warmly greeted by Annette from Refugee Support Devon. They had come to England through the Home Office Syrian Resettlement Scheme and RSD helped get them settled in Exeter, Devon, where he and his wife continue to live with their two daughters.
"Thank you @RefSupDevon for your support," posted Khaled on Twitter recently. "We appreciate everything you did for us."
Since his arrival in Exeter, Khaled has been working tirelessly to help others in need. Having experienced hunger and homelessness in his own life, he is deeply concerned to ensure he does all he can to feed others. He volunteered in various places around Exeter, serving hot homemade Syrian vegetarian food with other volunteers. These activities helped Khaled to improve his English speaking skills. When he arrived in the UK he knew the alphabet and the name of the Queen. Now Khaled is fluent.
The experience of fleeing war in Syria motivates Khaled to make a difference in the world today. "During the war," he says, "I had to escape to Lebanon with my wife within 5 days of our marriage. When we arrived there, we were homeless and hungry for many days, and every day felt like a year. I started looking for a simple job and a small place for us to live together. Neighbours came and invited us to rest in their homes. But daily life was hard and the winter was cold."
This concern to feed others, whilst needing to provide for his own family, gave birth to an idea. Why not begin a food business? The dream: Khaled's Taste of Syria, providing delicious Syrian meals at affordable prices. But that's not all: for every meal bought a contribution will be made towards the free meals for those in need.
Khaled says: "I aim to cook, sell, and celebrate Syrian food while also providing food and support to people in need or experiencing homelessness. I want to raise £30,000 to purchase an Electric food truck fitted with all the facilities needed to start cooking and to cover some of the initial launching costs, too. Your contributions will make a significant impact on our family business as well as supporting a crucial social cause and I am excited to get Khaled's Taste of Syria off the ground!"
Khaled is now doing all he can to make this dream a reality and his story was even mentioned in Parliament recently. If you would like to donate to his Crowdfunder, click here.
You can get in touch with Khaled by emailing him at: khaledstreetfooddream@gmail.com